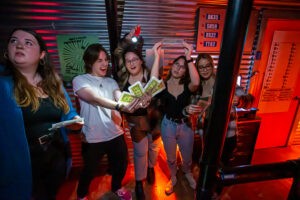 Many people love to have a great time with friends and family. However, finding something new and exciting to do can be hard. That's where Mindtrap Escape Room comes in! We offer a unique and amazing experience that will test your teamwork and problem-solving skills.
Our escape room games are perfect for anyone looking for a new challenge with friends, family, or co-workers. We have a variety of escape room games to choose from, so we have something that is sure to interest you. Don't overthink it; give us a call and schedule your escape room game today!
BOOK YOUR ESCAPE ROOM TIME NOW!
What Makes Us Different From Other Escape Room Facilities in Temecula, CA
Mindtrap Escape Room is the perfect place to enjoy a new and exciting escape room game in Temecula, CA. What makes us stand out from the rest is our commitment to providing an amazing experience for all our customers going above and beyond to ensure everyone who comes to our facility has a great time.
Our escape rooms have different themes and difficulty levels, so there is something for everyone. From little kids learning to work as a team to adrenaline lovers who enjoy creepy adventures, we have escape rooms you won't find anywhere else.
The most popular theme among our visitors is:
The 40 Thieves:

Restore a mystical bazaar before the 40 thieves wake their leader up
Full-Service Party and Event Facility
In addition to our escape room games, we also offer various other services that are perfect for groups of all sizes. You can come to Mindtrap Escape Room for your next corporate event, birthday party, bachelor/bachelorette party, or to have a lot of fun with friends and family.
We have a full-service facility ideal for celebrating a b-day party, having some bonding time with your co-workers, eating delicious food, playing some board games, and of course, challenging yourselves at our exciting escape rooms.
Escape Room Near Me? Visit Mindtrap Escape Room Today!
Bring your group of friends to share a memorable experience at Mindtrap Escape Room, the best escape room in Temecula, CA. You can expect nothing but an amazing time when you visit us.
We also offer party packages so that you can celebrate your next event in our facilities. Just choose your escape room game, book your time, and have some fun; we take care of the rest. Don't hesitate to contact us to schedule your next escape room adventure.